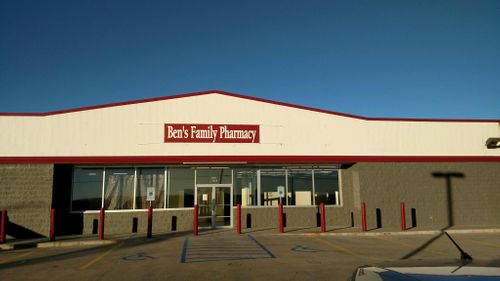 Our mission is to serve all the patients of our community and improve quality of life by offering accurate prescriptions, over-the- counter medications, personalized counseling, and high quality compounded medications. We are also working hard to provide our patients with durable medical equipment, and oxygen services. We are all dedicated to help you navigate through different medication formularies to find the most effective medications at the lowest prices possible, whether it is through your insurance, our store discount pricing, manufacturer coupon, or our local providers' 340B program pricing. Every dollar we can save the public on medications is a dollar that goes back into the local economy.
We are very passionate and committed to providing rural Colorado with the highest quality of pharmaceutical care. We are blessed with a strong, knowledgeable, and caring staff. Combined we have over 40 years of experience working in pharmacy. Owners Ben and Susan Ferree received their Doctor of Pharmacy degrees in 2006 and have worked in community retail pharmacy, hospital pharmacy, and consultant pharmacy with long-term care and assisted living facilities. Our pharmacy technicians have been certified nationally and are encouraged upon employment to achieve this status.
Toys! Toys! Toys! We love children and remember from our childhood how special the toy store was for us. We offer an extensive selection of toys, some of which have been tested for quality and durability by our own children prior to bringing them in. In addition to this we offer a unique selection of gifts, alternative therapy options, over the counter medications, cards, cool drinks, and ice cream.
We truly enjoy retail pharmacy because it allows us to see and interact with our friends and neighbors. We love having the ability to give back to the community that has given us so much support over the years. Take comfort in knowing that we are here for you and are willing to help you in any way we can.